How to make your jewellery the showstopper of your autumn wardrobe
Posted by MADELEINE BLAINE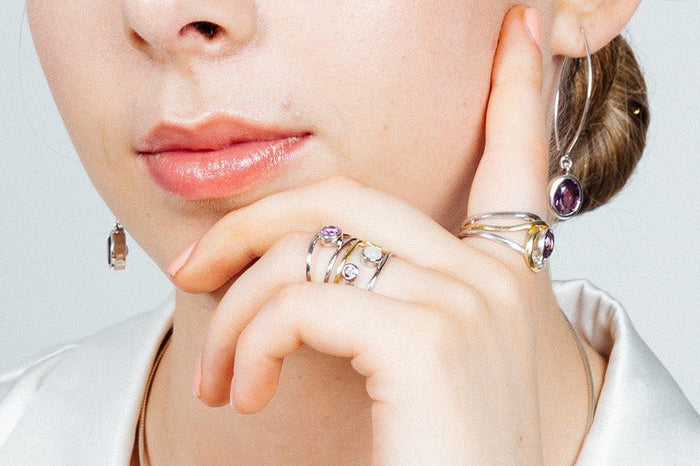 If there's one thing we're sure of within the jewellery industry, it's that the smallest things can often make the biggest difference. And we're not talking about gemstones. We're of the view the bigger the better on that front. What we mean is that jewellery has a clever way of elevating your look in mere seconds. Meaning that this season, there's no need to splash out on a whole new wardrobe, simply invest in key pieces of jewellery to update your autumn look. 
Breathe new life into your signature t-shirt and jeans or all of that cosy cashmere lurking in the back of your cupboard just by adding a necklace, earrings, bracelet or a ring. And just like that, you're bringing your A-game to your autumnal aesthetic. 
Here are a few of our favourite jewellery trends for autumn.  
Dainty Earrings - €42
Although often referred to as minimalist jewellery, don't be fooled. Dainty pieces pack a punch and carry a lot of power. They can help you tell a story and make a statement without fuss. Mix and match with your outfit for day-to-night look and embrace the small but mighty magic a pair of dainty earrings can bring to your outfit. 
Cocktail Rings - €145
Dare we say it but party season is fast approaching which means there are plenty of occasions on the horizon to rock a cocktail ring of two. 
An easy way to jazz up an outfit, cocktail rings are about brining some fun to your outfit and an opportunity to let your glorious personality shine through. In the spirit of fun, experiment with cocktail rings for day and evening looks. Who says you've got to keep them for special occasions anyway? We love the contrast of a cocktail ring with a simple and elegant outfit or to bring a little sparkle to a casual look too.
Remember when we said the bigger the stone, the better? Cocktail rings got the memo. Make sure you do too.
Silver - €85
Silver has never technically gone out of style but now more than ever, it's back in a big way, especially when it comes to chunkier pieces of jewellery. 
The joy of silver is that it looks beautiful against many skintones and leaves your pieces looking brand new for years to come thanks to it's unique shine. Its return to the forefront has a lot to do with the dopamine dressing trend, consisting of bright, colourful, joyful dressing which works well with the clean feel silver brings to an outfit. 
So which trend will you try first as you embrace your autumn wardrobe this season? Collection 2019 Sale 70% Off Title for image