Why we Love November's Birthstone Blue Topaz
Posted by MADELEINE BLAINE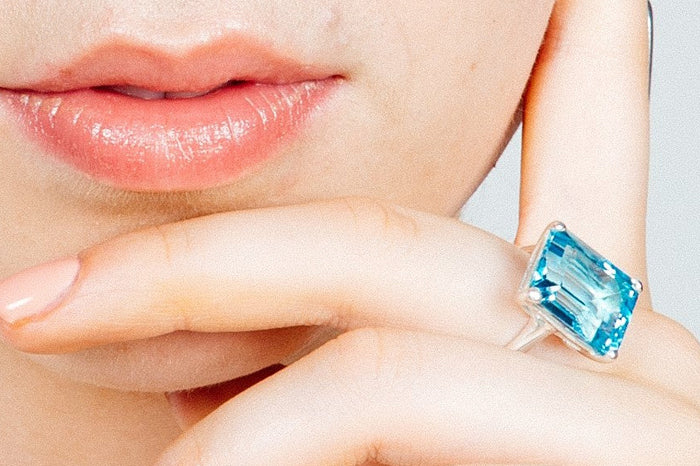 Lucky November babies can go ahead and start dropping some birthday gift hints, as its time to celebrate the very special November birthstone of blue topaz. Whether you're buying for a Scorpio or a Sag, November's birthstone has you covered.
 We take a look at what makes Blue Topaz so special and discover its origins and what it means for November babies.
 Facts About Topaz
Topaz is a variety of quartz which is the most abundant mineral on earth with sources found all over the world. Topaz can be found in a variety of colours deriving its hue from impurities in the structure of the crystals. Blue topaz comes from a colourless topaz stone using a heat treatment to create a beautiful sky blue.
 Meaning and Significance
Most of us know which birthstone we are but why do we have birthstones or what do they mean?
 The origin of birthstones trace back to the breastplate of Aaron from the book of Exodus, the birthstones are said to represent the 12 tribes of Israel. Later the stones came to represent the 12 signs of the zodiac and eventually the months of the year.
 Though November has two birthstones, Citrine and Topaz, Topaz is November's original birthstone.
What Your Birthstone Says About You
Each birthstone has its own qualities and meanings which some cultures attribute to those born in that particular month. Blue topaz that is said to be a symbol of love and affection empowering those who wear it with strength and intelligence, given as a gift it is said to be symbol of loyalty and love.
 Why We Love Blue Topaz
Blue Topaz is well represented in Gallardo and Blaine's collections as it's beautiful clear water blue is our designer Madeleine Blaine favourite colour. She describes the stone as one of the prettiest of the gems she works with, it also has a special place in her heart as it's her also her daughter's favourite.
 Caring for your Blue Topaz Stone
To keep the brilliance of your blue topaz for as long as possible, be precious with your precious stone. Gem stones can lose the intensity of their colour if exposed to too much heat or handled roughly. Harsh chemicals can also affect the stone so be mindful of using hand sanitisers and lotions. To clean your blue topaz jewellery gently soak in a mild soap and water solution for 10 minutes and pat dry.
 Where you can shop Blue Topaz
Here at Gallardo and Blaine we have a wide selection of this beautiful gem. November babies are spoiled for choice as we feature blue topaz in a wide selection of our rings, pendants and earrings. If you're thinking of gifting that special November baby in your life, we have something to suit every budget.
 Shop the Story Collection 2019 Sale 70% Off Title for image