Here's whats Trending at Gifted
Posted by MADELEINE BLAINE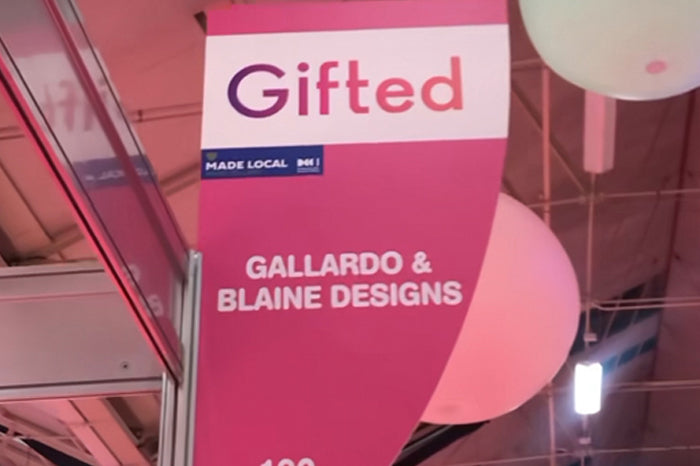 It was lovely to be back at GIFTED  in the RDS last week and see so many of our customers again. Like many businesses during Covid, we had to get creative to find ways to reach our customers, but nothing beats a face to face chat.
It was also a great opportunity for us to meet with other designers and makers and soak up the creative atmosphere and get inspired for future plans here at Gallardo & Blaine.
 GIFTED holds a special place in our hearts as it's an opportunity for us to talk to our customers and find out what matters most to them. After doing craft fairs and markets for over 15 years, our designer Madeleine Blaine knows why connecting with our customers matters so much. It's so important for us here at Gallardo & Blaine to make pieces that our customers will love and keep for years to come. That is why we listen to our customers with a keen ear so we can be sure to keep creating pieces that help them mark their special moments in life.
So what was trending, what had everyone talking and what got our customer's hearts racing?
 This year we met lots of couples, shopping for that special gift that represents their love for one another. We feel privileged to have our jewellery be a part of so many  love stories and found our Lovebird earrings, which are always a firm favourite, were particularly popular this year.
 We dearly love to see our repeat customers coming back to us to add another Gallardo & Blaine piece to their collection. Mindful buying is always something we encourage, we always ask – do you love it, do you need it, does it make you feel special? We are thrilled to hear so many of our customers invest in jewellery that they feel a real connection to and will wear with joy for many years to come.
It's always with great interest that we discover which items in our collection our customers are purchasing the most. Our Goddess Pendant continues to be our star player with so many people connecting with its timeless pictorial design. The pendant depicts the rising sun and is a symbol of hope and new beginnings.  Available in multiple gemstones and sizes with earrings to match, our customers can choose according to their own personality.
 We were also delighted to be featured in DCCI's Made Local stand this year. As part of their Made Local, Made to Last campaign, DCCI highlighted the quality, originality and sustainability of craft products including some of Gallardo and Blaine's pieces.

It is with our hearts full and brains buzzing with new ideas that we look back at our time at Gifted and begin to look forward to our next craft fair. For all updates and event happenings be sure to sign up to our Gallardo and Blaine newsletter. Collection 2019 Sale 70% Off Title for image