Silver Earrings
Posted by MADELEINE BLAINE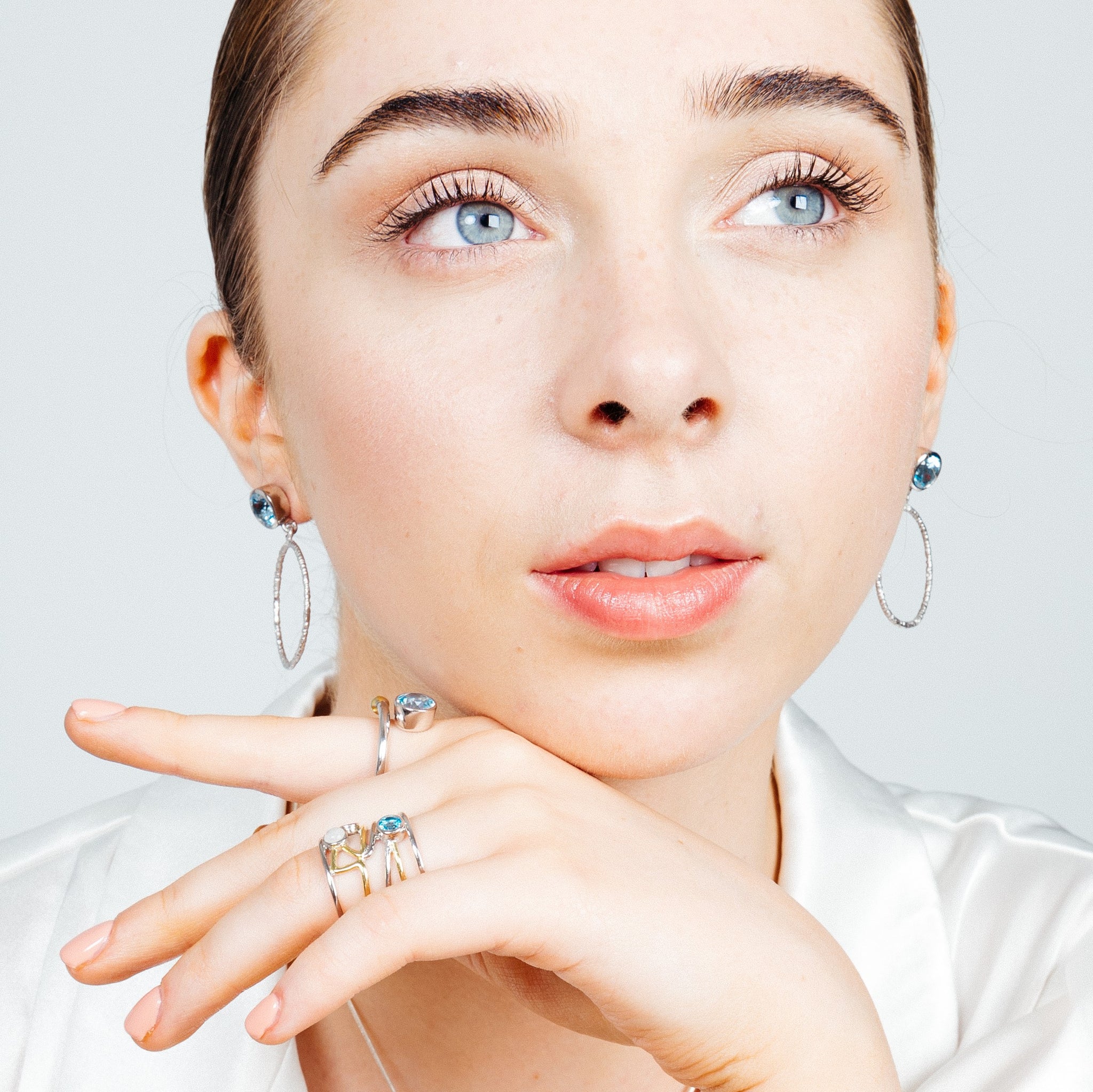 A Guide to Silver Earrings

Silver earrings are extremely popular with Jewellery lovers, they can be
purchased in a range of sizes and styles. At Gallardo & Blaine Designs, we stock a number of silver earrings including both stud and dangle earrings. Our collection of silver earrings can be found online via our website or viewed in our Dublin store, The Collective on Drury Street. Silver earrings are a stunning accessory, which is why we are here to provide you with a helpful guide to make choosing and shopping for silver earrings so much easier!

Why Buy Silver Earrings?

Silver earrings are a beautiful and dainty accessory to add to your everyday
Jewellery collection. There are a number of practical benefits to buying silver
earrings. Not only are they cheaper than gold earrings but they weigh less
which makes them light and comfortable to wear regularly. Silver is also known
as an antiseptic and some of its properties are still used in hospitals around the
country! This means that silver earrings are perfect for those with sensitive
skin and ears as they will not irritate and can be worn without worry of pain or
aggravation. Another reason that you should buy silver earrings is that they are
easy to clean with just soap and warm water.

What is the Difference Between Silver and Sterling Silver Earrings?

Sterling silver is a great option when buying earrings instead of pure silver as it
is a more affordable price and lasts a longer amount of time. Sterling silver
contains 92.5% of silver and 7.5% of other metals. These other metals make
the silver stronger so that it is more resistant to damage or wear. Our sterling silver earrings start from just €30,00.

What Can I Wear Silver Earrings With?

Here at Gallardo & Blaine Designs, we stock a variety of silver earrings that you can wear with any outfit. Our wonderful silver stud earrings make the perfect
accessory to wear every day. For dressing up and occasions, we 
stock elegant textured drop earrings & statement earrings with beautiful gemstones. You can truly wear silver earrings to compliment any outfit, so search our silver Jewellery collection online to find the perfect pair of earrings for you.

How Do I Clean Silver Earrings?

You should clean your silver earrings regularly to keep them shining and
prevent them from tarnishing. Silver earrings can be easily cleaned with
warm water and soap. If there is tarnish then you can use a toothbrush
to gently scrub your silver earrings. Another way to get your silver
Jewellery looking as good as new, line a bowl with aluminium foil and fill
with 2 cups of boiling water, you can then add a tablespoon of salt to
soak your silver earrings in. This will remove tarnishes from the silver. If
neither of these methods work to make your silver earrings look new
again, try adding baking soda to the boiling water.

Silver earrings are an ideal gift for a lady, and our Gallardo & Blaine Jewellery designs come in lovely boxes decorated with white ribbon ready to gift straight to a loved one. Shop our products online or collect from our Dublin store. If you require help or have any questions do not hesitate to contact us at the shop +35316751799 or sending us an email to info@gallardoblainedesigns.ie. Collection 2019 Sale 70% Off Title for image